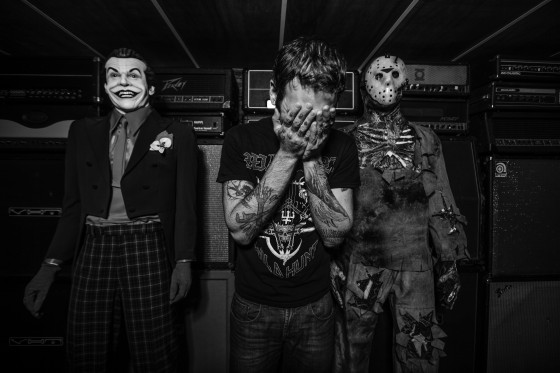 Official press release:
As ENABLER prepares to deliver their eagerly awaited third LP, Fail To Feel Safe, in just over a month, MetalSucks has exclusively premiered the title track to the conquering album.
Their first album for Century Media, with Fail To Feel Safe, ENABLER delivers an incredibly slick and dynamic record, furiously deploying thirteen brand new tracks in exactly forty-two minutes, as always, continuing along the same path of evolution which dates to their very first recordings, while retaining the core enraged and savage foundation of the tunes. Recorded at Silver Bullet Studios with engineer Chris Teti (The World Is A Beautiful Place & I Am No Longer Afraid To Die) and producer Greg Thomas (Misery Signals, Shai Hulud) — the team who also produced the band's critically acclaimed debut album, All Hail The Void – then mastered by Bill Henderson at Azimuth Mastering, the record was completed with cover art by Chris Smith, as with their 2014-released La Fin Absolue Du Monde sophomore LP.
ENABLER's longtime supporters at MetalSucks have released a brand new single from Fail To Feel Safe, deploying the title track to the LP just days after the album showed up on an early Best Of 2015 So Far List. in a glowing write-up alongside the premiere the site offers that the track "features all the elements that made us fall in love with the trio in the first place. Specifically: lean n' mean riffage; drums that roll and crash like tsunami waves; guitars that sound like a massive cloud of furious wasps; and Jeff Lohrber's vitriolic vocals, which seem as though they were recorded immediately after the dude gargled on a cocktail of sulfuric acid and broken glass. ENABLER offer nothing less than all your greatest horrors in audio form."
"Fail to Feel Safe" courtesy of ENABLER and MetalSucks now at

THIS LOCATION

.
Also view the recently released "By Demons Denied" lyric video

HERE

, and a studio report on the creation of Fail To Feel Safe

HERE

.
Century Media will officially issue Fail To Feel Safe on CD, both teal and black vinyl LP, and digital formats on August 7th. Preorders including exclusive merch bundles and more are now available RIGHT HERE. A limited By Demons Denied 7″, which includes two exclusive b-sides, "The Flame" and "Some Things Are Worth Living For," is also available HERE.